This Matchbox vehicle has come out in the following 1/64 scale versions:
Col #
Year
Series
Color
Tampo
Base Color / Type
Window Color
Interior Color
Wheel Type
Toy #
Country
Notes / Variations
Photo
49-B
1967
1-75 Series
Tan
Blue
Green
None
49-B
1968
1969
1-75 Series
Blue
Red
Green
None
49-B
1970
1971
1972
1-75 Series
Blue
Red
Green
None
TP-13
1976
Twin Packs
Olive
Star or "A" label
Olive
Green
None
Black
See also
Edit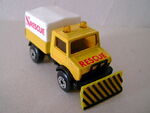 Ad blocker interference detected!
Wikia is a free-to-use site that makes money from advertising. We have a modified experience for viewers using ad blockers

Wikia is not accessible if you've made further modifications. Remove the custom ad blocker rule(s) and the page will load as expected.