Talk:Rolls-Royce Silver Shadow II
1,155pages on
this wiki
Other Versions
Edit
Do you know if there was also a version that was released in tan that was a tie-in with the movie "The Cannonball Run?" I have one like that and was wondering if it was the same casting. HaarFager 11:59, April 8, 2010 (UTC)
I guess there wasn't also a version that tied in with "Cannonball Run" released by Matchbox. The only one that came out in tan was produced by Ertl. This is the one I was wondering about: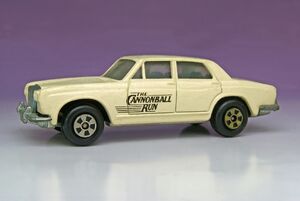 Text removed from page
Edit
There is also a tan version of this car. This is a car that was made in England by Lesney and had opening doors and red interior. it was made in 1978-9?. It also has brothers to. One of them is a tan version, (As kindley spoke.) a silver version,

Red Early Version of the Shadow II

Added by

RobbieAtLarge

a red one and a Dodge like white with pink Mini era racing stripes. As many; the Shadow II has a super rare 'Farther'. One of them is a silver and light geen with an opening boot, 4 doors and a de-tacheble canopy to see the interior. As i can see there is only 1 (Now maybe 0.) on eBay that sold for 500 pounds.
I removed the above from the article, as it is difficult to understand, but since it may have relevance I place it here, so it isn't lost. --Badger16 02:28, May 31, 2012 (UTC)