The Mercedes-Benz A-Class come out in the following 1/57 versions:
Col #
Year
Series
Color
Tampo
Base Color / Type
Window Color
Interior Color
Wheel Type
Toy Number(s)
Country
Notes / Variations
Photo

MB56 (USA)

MB51 (INT)

1999

Wilderness Adventure Series 12 (USA)

(INT)

Red
Silver headlights, white stylized kayak and rider, blue "waves"
Black / Metal
Clear
Purple

36255 (USA)

37273 (INT)

China
MB-75
1999
Extra Class 1-75
Red
Painted Lights
Black/ Plastic
Smoke
Black

China
Germany Edit

MB-31
2000
Extra Class 1-75
Silver
Painted Lights
Black/ Metal
Smoke
Black

China
INT Edit

N/A
2002
5-Pack: Snow Cappers
White
ALARM, Snow Flakes Design
Charcoal/ Metal
Blue
Gray

Chine

N/A
2002
Stars of Germany
Yellow
Red taillights
Black / Metal
Clear
Black
90156
China
MB32
2005
Buried Treasure (INT)
Red
Auto Repair, A-Class, Gray stripe, yellow section
Gunmetal Gray / Metal
Smoke
Gray
H2165 (INT)
China
SF32
2005
Superfast
Black
Detailed headlights and taillights
Black / Plastic
Clear
Silver
H7745
China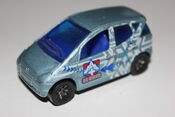 Ad blocker interference detected!
Wikia is a free-to-use site that makes money from advertising. We have a modified experience for viewers using ad blockers

Wikia is not accessible if you've made further modifications. Remove the custom ad blocker rule(s) and the page will load as expected.