Difference Between Police Versions
Edit
Reflecting changes made in the prototype, the 2006 Crown Victoria eliminates the side windows behind the rear doors (eliminating the D-posts). At the same time, Matchbox extended the window plastic under the hood and into the headlights, making them clear,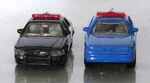 and made the front and rear bumpers part of the base rather than the body. Up front, a push-bumper was added, similar to those used by some police departments, while updated tail lights appeared in the rear.
For the interior, molded-in-place equipment appeared on the front seats and a computer appeared between them, while the lollipop lights that formerly graced the rear package shelf disappeared.
Ad blocker interference detected!
Wikia is a free-to-use site that makes money from advertising. We have a modified experience for viewers using ad blockers

Wikia is not accessible if you've made further modifications. Remove the custom ad blocker rule(s) and the page will load as expected.