Convoy
Talk

0
1,155pages on
this wiki

Convoy is the name of multiple series of Matchbox tractor-trailers. The series has been introduced several times, with varying names (e.g. Matchbox 900 and Super Rigs), and produced three distinct generations, the latest being known as Super Convoy. Trucks and trailers from the same generation are interchangeable, but those from different generations do not fit together.
Numbering Convoy trucks is complex, as sets were often numbered separately from the tractors and trailers. This article addresses the numbers of the trucks and trailers, rather than the sets.
Before Convoy
Edit
1-75 Tractor-Trailers
Edit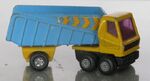 The
1-75
series featured a few tractor-trailers, such as the
Freeway Gas Tanker
and the
Articulated Truck
. These vehicles featured a two-axle tractor and single-axle semi-trailer, and though the tractors and trailers were interchangeable, this aspect was not marketed.
King-size
Edit
The
Super Kings
series of the 1970s and 1980s featured several articulated trucks, but most were permanently attached to their trailers.
First generation
Edit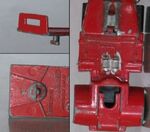 The original Convoy trucks, also marketed under the Matchbox 900 name, featured tractors the same size as the mainline vehicles, using Superfast wheels, and bore the Superfast logo on their bases. The trailers had an inverted T-shaped tab that fitted into a T-shaped slot on the tractor. These were the first Matchbox trucks where part of the play value was intended to be the interoperability of different cabs and trailers.
A single, generic, two-axle tractor was offered - Long Haul, though it appeared in at least two colors, green and red. The articulated trailer functioned as a flatbed trailer, capable of hauling two first-generation shipping containers. Different designs featured the articulated trailer fitted with a plastic box as a box trailer, or with plastic stakes for carrying pipes or timber.
| Col # | Name | First Year of Issue | Notes / Variations | Photo |
| --- | --- | --- | --- | --- |
| | Long Haul | 1979 | | |
| Col # | Name | First Year of Issue | Notes / Variations | Photo |
| --- | --- | --- | --- | --- |
| | | | | |
Second generation
Edit
Tractor-trailers were updated in the 1980s, with a greater variety of tractors and trailers. Trailers were now fitted with a ball-and-post type of hook, fitting into a keyhole slot in the tractors. As with the first generation, wheels and size were the same as mainline vehicles. Second-generation tractor-trailer sets were also sold as Super Rigs, and in larger sets as Team Convoy, a name not exclusive to tractor-trailers. In 1982 a special carry case was issued for storing and carrying tractor trailers; this case bore the name Highway Express, suggesting that this name may also have been applied to the trucks themselves.
Most second-generation Convoy tractors were based on prototype vehicles. The numbering of second-generation tractors is particularly complex, as the the trucks were also issued in the mainline series without a trailers, but with mainline numbers. The mainline numbers appear in this table.
| Col # | Name | First Year of Issue | Notes / Variations | Photo |
| --- | --- | --- | --- | --- |
| | Flatbed trailer | | Holes in bed accept plastic box (Box Trailer). Trailer can hold two first-generation shipping containers | |
| | Box Trailer | | Opening Doors at rear. Modified Flatbed Trailer | |
| | Tanker Trailer | | | |
| | Lowboy trailer | | Holes in base accepted plastic brackets for Boat Trailer and Rocket Trailer | |
| | Boat Trailer | | modified Lowboy | |
| | Rocket Trailer | | modified Lowboy | |
| | Lights and Sound Box Trailer | | Doors do not open | |
| | Long Box Trailer | | Doors do not open | |
| | | | | |
Super Convoy
Edit
The third generation of Convoy sets is slightly larger than the mainline vehicles, sharing its size and wheels with Real Working Rigs, instead. These vehicles are marketed as Super Convoy trucks. A post and flange on the trailer fits into a keyhole slot (larger than the keyhole slot on the second generation trucks) on the tractor. With the Real Working Rigs, the Super Convoy trucks fill a market niche similar to the Super Kings trucks of the 1970s.
| Col # | Name | First Year of Issue | Notes / Variations | Photo |
| --- | --- | --- | --- | --- |
| MBSCT001 | | | | |
| MBSCT002 | Car Transporter | | | |
| MBSCT003 | | | | |
| MBSCT004 | | | | |
| MBSCT005 | covered hopper | | | |
| MBSCT006 | | | | |
| MBSCT007 | | | | |
| MBSCT008 | Open Top Hopper | | | |
| | | | | |