Carry Case
Talk

0
1,155pages on
this wiki
Matchbox has released several carry cases, most often featuring removable plastic trays, each tray designed to accept twelve vehicles in a three by four grid. The twelve slot arrangement for the trays meant that most cases carried a multiple of that number: 12, 24, 48, or 96 models, with 48 being the most common. Odd-shaped cases, where the case took the shape of a steering wheel or other object, featured molded-in compartments and therefore didn't conform to this pattern. Very early cases featured cardboard dividers instead of the plastic trays.
Evolution of the Trays
Edit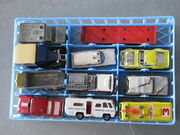 Later trays had only ten compartments, omitting the divisions between two pairs of compartments to form two double-length compartments that would accept longer vehicles (e.g. trailers from the
convoy
series). Alternately, these extra-long compartments could be filled with two normal-sized vehicles or three particularly small ones, at the risk of paint chips as the case was carried.
In addition to the changes in the number of slots, the trays underwent ease-of-use changes. Though the outside wall of the trays was typically an open latice, early trays used tall, solid dividers between their slots - cars stored in the innermost slots could be difficult to remove. Later trays reduced the height of the internal dividers, which helped fingers get in to pull out taller cars and trucks, but were not useful for retrieving the lowest models (e.g. the Ferrari 308 GTB. Eventually, Matchbox replaced part of each slot's bottom with tab that could be pushed in from below, lifting the imprisoned car enough that it could now be easily lifted out.
Convoy Carry Case
Edit
Lesney also released a case for the Matchbox Convoy trucks, with a 1982 copyright date. This case features two stacking vacuformed trays, each with twelve slots arranged in a two by six arrangement. The slots are long enough to accept the then-available generation two tractor-trailers, though some later-issued trailers have to be uncoupled from their tractors if they are to fit.